It's a bumper update to Realtime Trains this month! Most of the improvements are to Know Your Train but there have also been a number of reliability and small functionality changes, meaning over 10% of the code that powers Realtime Trains has been changed in this update.
Changes in Formation

On any train service with changes in formation, we'll now show each version and allow you to flick between them using arrows that will appear either side of the diagram. If there's multiple formations, or the formation doesn't apply the entire distance, then we'll also show the parts of the service it applies between above the diagram.
When you click onto the train service from any location en route, we'll show you the correct layout of the rolling stock at the location from which you reached the train.
Caledonian Sleeper


As part of these changes, we have added support to Know Your Train for the Highland Caledonian Sleeper services1 to Inverness and Fort William.
ScotRail

We've added support for ScotRail's Inter7City HST which currently operate on routes from the Central Belt cities of Edinburgh and Glasgow to Inverness, Dundee, Perth and Stirling. They also service the route between Aberdeen and Inverness.
In detailed mode, the power car numbers will be displayed.
LNER

LNER's 5 car Azuma trains, which can run in multiple up to 10 car formations, will now display the letters of each coach.
We've been working with LNER and can now identify the locomotive (in most cases!) hauling their 'Electric' trains from York and Leeds to/from London - keep an eye out for the special liveries.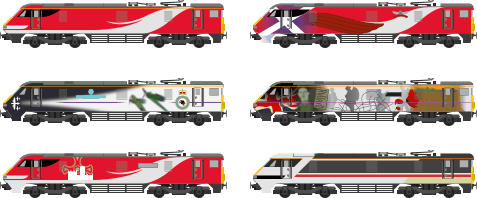 Additional facilities
We're also adding three additional facilities to individual coaches, some of which you can see in the screenshots for each operator above.
On Caledonian Sleeper services, we'll highlight the sleeping cars with an icon of a bed.
On LNER services, we'll highlight the first class and buffet coaches.
Other changes
There have been several further changes to functionality around Know Your Train and train allocations:
In detailed mode, the following changes have been made for train services where an allocation is available:

Timing load information now located on first location line, similar to en-route changes
Pathing speed no longer be displayed in the operational info box, now located with timing load info

Improved handling for situations where an allocation starts and ends at the same location
Added capability for coach letters on portion worked services with two or more multiple units
Train length is no longer displayed at cancelled locations in both simple and detailed mode
Improved handling of applying ambiguous allocation detail to train services
Facilities, coach numbers and letters will no longer be displayed on non-passenger services
The simple mode will no longer display a train diagram for non-passenger services
LNER Azuma trains in 10 car formation will display the quiet coach in coach H
The image for ScotRail's class 318s no longer contains a corridor connection
There have been the following general improvements:
Rebuilt the rendering system for drawing train imagery
Class 92 timing loads on Caledonian Sleeper services are now displayed as Class 92 locomotive, rather than an electric locomotive with 92 tonnes trailing load
Updated timing load description for trains pathed as Castle Class HSTs
Fixed an issue where timing load changes, on the frontend, weren't properly handled when a value was changed to empty - e.g. "E410" to "EMU", resulting in Class 410 EMU on LNER
Reimplemented support for trains operated by two train operators which change en route - primarily seen on services through Dumfries to/from the Tyne Valley and Newcastle
Fixed issues with delays of over 50 years if a train returned to origin
An issue which inhibited buses and ships from appearing in the simple mode when looking at a live departure or arrival board has been fixed
Title photo provided by Angus Duncan.
---
The lowland sleeper services to Edinburgh Waverley and Glasgow Central are not currently supported due to upstream systems issues. ↩︎