In the age of data, we have the world at our fingertips. In the railway world there's now a plethora of sites, including Realtime Trains, that provide live train running information through timing report pages and signalling maps.
When I've been on a train and it has suddenly slowed down at an unexpected location, I normally look at number of different systems to find out why. It has left me wondering for a long time pondering on the question of whether it is possible to make this accessible to all.
I'm pleased to announce that Realtime Trains is today launching Track Your Train, our way of making this more accessible to all.
Features
On the train
This is the first release and there is a long roadmap ahead, so here's what is available today.
When a service is underway, we'll be able to tell you where the train is, the progress that it's making and any indications we may have of reasons for delays. In the detailed mode, we'll advise how far the route is currently set in the signalling system and we'll provide a real-time indication of the aspect of the signal that the train will next pass.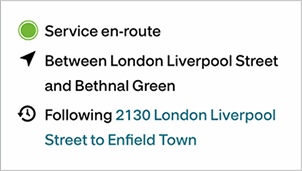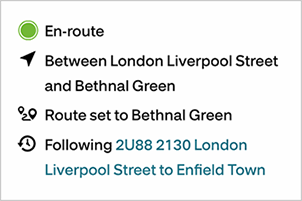 If we think that there's a possibility of a train service ahead causing an issue, we'll let you know as you can see in the screenshots above. In the simple mode, for passenger trains we'll let you know which one it is or, for other services, whether it's an empty passenger or freight train. In the detailed mode, we'll provide the headcode.
At stations en-route
We've all seen and experienced platform alterations when they're announced just as the train rolls into the station. At many stations, you have to move a long way fairly quickly to make sure you don't miss the train.
That's not a problem anymore: we now look at a train's potential forward progress and not just reactively to the train's movement into the platform. As soon as we know a train will definitely be using that platform, we'll know and make the change.
At origin stations
One of the unique features on Realtime Trains is the statuses that appear on trains - 'Approaching', 'Arriving', and 'At Platform'. Today, as part of the enhancements around Track Your Train, we're adding two more: 'Preparing to Depart' and 'Ready to Depart'. During times of disruption, we hope that this will give a much better indication of what trains are nearer departure.
These new statuses will appear on train services originating from selected stations from today including London Liverpool Street, Chingford, Shenfield and Southend Victoria.

Rollout
On the train & at stations en-route
Track Your Train is available today on selected services from London Liverpool Street:
Greater Anglia services to Norwich and Southend Victoria
London Overground services to Chingford
TfL Rail services to Shenfield
We also support services operating between stations intermediately along the lines of route. For example, a Liverpool Street to Ipswich service would be included as it operates along the Norwich line of route but a service to Braintree will not.
Platform updates at en-route stations will be supported for any train service along supported lines of route. For example, a London to Braintree service will receive platform updates as far as Witham.
At origin stations
'Preparing to Depart' and 'Ready to Depart' are currently supported at London Liverpool Street, Chingford, Shenfield, Southend Victoria, Wickford and Witham.
Future
We will continue to expand this feature across the country over the coming months and years - this is by no means a small undertaking. However, not all areas can support this feature as it pushes signalling data to the very limits of what is possible.
As with Know Your Train launched earlier this year, Track Your Train is a unique providing to Realtime Trains and only available on our website.
You can keep up to date with the supported routes and stations on the Track Your Train help page.

Other updates
As part of this release, there are also the following updates:
In simple mode on station line ups, services will no longer drop out by default after their expected departure time has passed. If the train is in any specific location state, i.e. 'Approaching', 'Arriving', 'At platform', 'Preparing to depart' and 'Ready to depart', then the services will remain in the list until it leaves this station or loses the state.
Improvements to the site layout reduces the likelihood of information panels exhibiting odd flexing behaviour at certain widths in both simple and detailed mode.
The API has been updated, together with documentation, to add 'Preparing to Depart' and 'Ready to Depart' on the locationStatus fields
UK Departure Boards devices have already added support for 'Preparing to Depart' and 'Ready to Depart' status if you use the RTT data feed, their departure boards will display 'Departing soon' and 'Ready'