Prototype HST power car continues legacy as development testbed, pioneering new Realtime Trains GPS-based reporting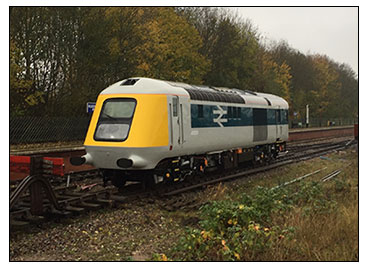 swlines Ltd is pleased to announce the successful first test of a new reporting system for Realtime Trains this past Saturday, during HST prototype power car 41001's first passenger run in over 35 years on "The Screaming Valenta" tour, from Ruddington to Loughborough and back via the Great Central Railway (Nottingham.)
The 125 Group and the Project Miller team have supported the development of the new Realtime Preserved Trains system, which receives its data from GPS units attached to the train. This allows trains on heritage railways to 'report in' to Realtime Trains as if they were a train on the mainline network, complete with live running times and predictions.
The Project Miller team generously allowed the attachment of these receivers to 41001 in time for its run—fitting in light of this power car's heritage as a testbed and pioneer for new technologies. Gary Heelas, Chairman of 125 Group, said: "The Realtime Trains system has become an immensely popular tool amongst those in the railway industry and public alike and the broadening of its use to preserved lines is a welcome move which 125 Group and the Project Miller team are only too happy to support. We will continue working with swlines Ltd to refine the system in the hope it can be deployed on further preserved locos in the future."
Realtime Preserved Trains is a combined hardware and software system, and is nearing the final stages of development and testing. When it is finished, it will be available for all interested heritage railway operators or rail preservation groups in the UK. The system's components will also be available for any mainline operators looking to provide more accurate, reliable and timely realtime information and predictions for their own services.
As a gesture of thanks for the assistance provided and as part of a new effort to support preservation projects, swlines Ltd was pleased to donate £2000 to Project Miller to further their efforts.
For further information about The 125 Group and Project Miller, please see 125group.org.uk. For further information about Realtime Preserved Trains please email tom@swlines.co.uk.